Bill Jones Music carries the following organs: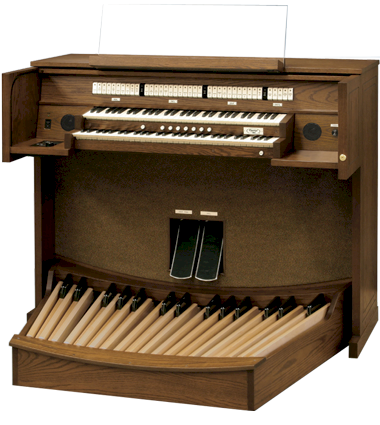 Bill Jones Organs is proud to represent the Allen Organ Company in East Tennessee and Southeastern Kentucky since 1997. Located in the heart of the Pennsylvania Dutch country, Allen Organ Company is the largest builder of church organs in the world, and has been in business since 1937 It has been said that more organists play an Allen organ each week than all other organs combined. Allen Organ Company builds organs to meet nearly every need and budget:
Allen Chapel ™ Series organs offer the legendary Allen sound at amazingly affordable prices. These organs are perfect for a home practice instrument, a small church, or funeral home chapel.
Allen Bravura ™ Series organs provide instruments with the pipe organ sound, features, and quality found in our premium line with the affordability of our Lumitech ™ LED-based lighted capture system.
Allen Quantum Custom™ Series organs are organs of distinction with moving draw knob actions and other features found on the finest wind-blown pipe organ consoles. Because Allen Organ Company builds all systems of their organs in house, in most cases an Allen Renaissance Quantum ™ instrument can be purchased at or near the cost of our competitors' lighted stop systems, offering unprecedented value.
The Allen Elite ™ Program is the Gold Standard in organ building. These are custom organs without compromise.
For more information about an Allen Organ for your church or venue contact Bill Jones Organs.
Check out Allen's website
Making Extraordinary Music for Over Seventy Years
With research and development reaching back as early as 1918. Lowrey, today continues its long-standing hallmark of product excellence and is known worldwide in the recreational music-making market as the number one choice for consumers. Always committed to making music accessible for its customers,
Lowrey continues to innovate by pioneering new technology, introducing new products, creating new and exciting consumer programs, and by offering the largest product line in the industry. That's why Bill Jones Music has associated themselves with Lowrey Organs for so many years.
Bill Jones Organs Installation Album
Welcome to the Bill Jones Organs Installation Album.
Here you will find pictures and descriptions of organs installed by
Bill Jones Organs. We will be updating them regularly, so check back to see.
Be sure to visit the links to the venues, and to the Allen Organ site. Bill Jones thanks these establishments for making us their company of choice!
For more information about an Allen Organ for your needs, contact www.billjonesorgans.com
"Bill Jones Organs- Middle Tennessee's Exclusive Dealer for Allen Organs"